Forum rules
Please can you post items for sale or wanted in the correct For Sale section. Items / bikes for sale here will be removed without warning. Reasons for this are in the FAQ. Thanks
Site Supporter

Posts: 574
Joined: Tue Aug 16, 2011 3:10 pm
Bike owned: MC22, 3TJ1
Location: Thailand
Contact:
Hi All,
I am reassembling my gearbox after fitting new bearings etc. I forgot to measure the fitted axial clearance of the 6th pinion gear (#6) before dismantling.
Gear #7 is pressed onto the shaft and how far you press it on determines the axial float of #6. So I am asking if anyone has an FZR400 gearbox, any model from 1WG to 3LN6, if you could measure either or both of the following.
1/ axial float of gear #6 (could do with a dial gauge or feelers gauges)
2/ length of shaft protruding from gear #7. Needs to be accurate so at least use vernier callipers.
Cheers
Blair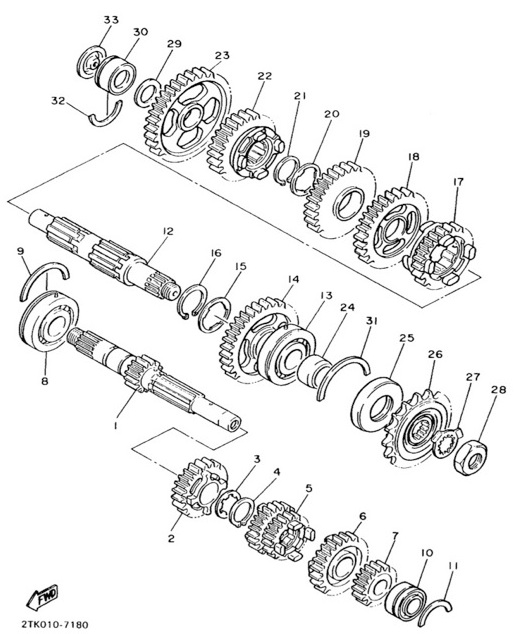 ---
Site Supporter

Posts: 9470
Joined: Tue Apr 29, 2008 8:59 pm
Bike owned: Bimota SB6 Yamaha FZR 3TJ x2
Location: Lundin Taan
---
---